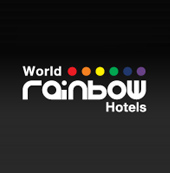 (PRWEB UK) 23 June 2014
World Rainbow Hotels (WRH) is the first and only hotel consortia programme exclusively targeting the gay and lesbian market on the GDS and online.
The consortia programme for 2015 will be launched on June 25th, and will be accessible to hotels on both Lanyon and Nexus. Nonetheless, hotels not using Lanyon or Nexus will still be able to submit a manual RFP to join WRH for the 2015 season.
Commonly referred to as the Pink Pound or Pink Dollar, the LGBT market represents a significant share of global tourism spend, with the US its largest source. Just this year tourism spend by the LGBT market is predicted to exceed $ 200 billion, an eye popping figure released during the World Travel Market in London last year. The data came out of the LGBT2020 survey conducted by the travel trade association Out Now Business Class (ONBC). In its look at booking preferences, the survey also found that even though online travel websites seem to be the most popular when it comes to booking hotels, a significant portion of the market still prefers to use traditional travel agencies.
With the WRH consortia programme hotels can get exclusive LGBT-focussed marketing opportunities, including marketing campaigns targeting 24,000 travel agencies worldwide, GDS and online bookings from both agents and consumers, via the WRH website, as well as their presence and visibility on many affiliated LGBT websites.
World Rainbow Hotels is also partnering with several Pride events, including Chicago Pride 2014 and London Pride 2014, as an official hotel partner provider, and is in talks with many more global corporations and gay and lesbian diversity programs, in order to secure exclusive deals and opportunities for 2015.
Last year, World Rainbow Hotels was awarded with the Travolution Award for Best Hotel Website.
For more information on the WRH 2015 Consortia Programme visit: http://www.worldrainbowhotels.com/hoteliers or download our fact-sheet here.
ABOUT WORLD RAINBOW HOTELS

World Rainbow Hotels (WRH) is a global collection of LGBT welcoming hotels worldwide. To be approved into the World Rainbow Hotels collection, hotels must meet a strict selection of criteria, including the hotel's location, its features and category, knowledge of the local gay scene, current involvement with the LGBT community, compliance with non-discrimination policies and same sex benefits for all hotel staff. Find out more on the World Rainbow Hotels website or read our blog for the latest news.
CONTACTS

For World Rainbow Hotels:

Nicolas Wijnants

Director WRH, eCommerce & Global Marketing

World Rainbow Hotels

+44 (0) 8000 124 464 Ext: 6523

nicolas(dot)wijnants(at)worldrainbowhotels(dot)com
For additional images and more information please contact: marketing(at)hotelrez(dot)net