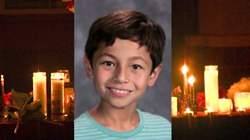 London, UK (PRWEB) December 08, 2014
Social media and news outlets broke the story of Ronin Shimizu, a twelve years old boy suspected to have killed himself last week due to failure to cope with bullying. Speculations are arising that Ronin couldn't cope with the continuous bullying he endured for being the only male cheerleader in his former school. NoBullying remembers, in an article released today, the life of Ronin Shimizu and the reasons why someone would want to commit suicide.
According to this news source, published on December 3rd 2014, Ronin was originally a student at Folsom Middle School in Folsom, California, but had dropped out of school and decided being home schooled instead. He took his life on Wednesday, December 3rd. The school district in the area reported that Ronin's parents had complained their son was being bullied on several occasions and that the school officials followed the "appropriate protocol."
Several former classmates from Ronin's middle school speculate he was taunted and called gay for being the only male cheerleader in school.
Anti Bullying Programs and School anti bullying policies can only help so much. It is more than pressing for parents of school aged children to have a serious discussion on the importance of tolerance, acceptance and kindness as words do hurt and do leave a lasting effect on a child's soul.
It is important to realize that there is no way to really see beyond the faces of bullied children, they pretend to be unaffected by the taunts and harassment they face every day. They try to act strong even though they are facing every act of betrayal possible and their feelings of rejection hurt deeply. Children are so wrapped up in their own lives; they often don't notice that others around them are suffering from the smallest word or gesture.
NoBullying urges parents, educators and caregivers to open an honest dialogue about bullying, depression and suicide. For some children who cannot find a safe outlet for negative emotions, suicide might seem the next logical step, therefore it is more than essential to save lives by simply allowing teens and children to express their most negative darkest emotions in a safe space.
Ciaran Connolly, Co Founder of NoBullying says "Ronin was only twelve years old, for someone this young and innocent to find no other escape but death is just sad. Teens committing suicide because of bullying is a shame on society and local communities. "
He added that parents and teachers should make a point to educate the younger generations about the sad outcome of neglecting open conversation about all the facts of bullying. According to Connolly, it is quite imperative to press for more firm laws condemning all acts of bullying and harassment.
NoBullying.com features many pages dedicated to parents, teens, teachers, health professionals as well as posts related to cyber safety and the latest news about law making concerning curbing Bullying worldwide as well as inspirational Bullying Poems and famous Bullying Quotes.
The website regularly updates its bullying statistics and cyber bullying statistics as it is essential to understand how widespread the bullying epidemic is. It also regularly runs cyber bullying surveys and questionnaires to get recent updated statistics on everything related to cyberbullying.
He also added that anyone suffering from bullying in any form or way can always find advice and help on the NoBullying website – but if anyone is suffering from severe bullying or cyber bullying, the best thing is to talk to someone locally – a parent, teacher or local organization that has been set up to help with specialized councilors to deal with this topic.
More Gay Press Releases