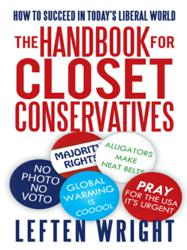 (PRWEB) May 06, 2013
New novel, "The Handbook for Closet Conservatives: How to Succeed in a Liberal World" by Leften Wright, uses wit and humor to encourage readers to not be afraid to say what they think in a liberal world.
Wright addresses a world revolving around welfare, recycling, affirmative action, gay marriage, global warming, education, mosques in the neighborhood, racism and environmentalism; topics he believes have become a way of life for Americans.
Conservatives who are frustrated with these issues don't have to feel alone. Wright's guide confirms that other closet conservatives are out there and have the same experiences. He hopes his book will give readers the lift they need to triumph over the followers of "Al 'Jazeera' Gore" and "Muscles Michelle" without golfing alone or being left out of the really good parties.
"Passing as a liberal involves understanding what they really believe and what their real motives are," said Wright. "'The Handbook for Closet Conservatives' touches briefly on many topics and explains how to approach these issues with a liberal mindset."
Being from a suburb where copies of "An Inconvenient Truth" replaced ashtrays on coffee tables, Wright has ample experience cloaking a conservative attitude in a world where liberals assume you are one of them and gleefully trash Sarah Palin and worship Hillary.
"Everyone in the media, arts, academia, government and liberal meccas should reach for this daring and original book, The Handbook for Closet Conservative."
For more information, visit http://www.conservativeshandbook.com.
"The Handbook for Closet Conservatives: How to Survive in a Liberal World"

By: Leften Wright

Retail price: Paperback $ 12.99

Available at http://www.amazon.com and http://www.barnesandnoble.com.
About the author

Leften Wright grew up in Detroit, Michigan during the Depression. From his first job as a radio announcer-copywriter to years as a Madison Avenue advertising executive, he has always seen the humor in life. Known for his determination on the tennis court, he and his wife enjoy spending time with their two sons, daughters-in-law and four grandchildren. He makes sure not to turn on Fox when they are visiting. "The Handbook for Closet Conservatives" is his third published book.
Find More Gay Marriage Press Releases