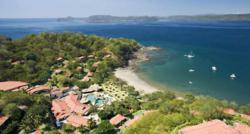 Wayland, MA (PRWEB) April 24, 2013
GayDestinationWeddings.com is celebrating the destination marriage of its first LBGTQ couple, Ryan Loehndorf and Dustin Thompson. While DestinationWeddings.com has been planning and executing gay destination weddings since 2003, the company's new site caters exclusively to the discerning tastes of the LGBTQ market. Properties listed on GayDestinationWeddings.com include only those hotels and resorts from around the world that the company hand selects as "gay wedding friendly."
Loehndorf, 30, and Thompson, 27, chose the Hilton Payagayo in Costa Rica to host their wedding and 42 guests. The event included an all-day excursion for the 16 person wedding party with horseback riding, white water tubing, zip lining, mud baths, and hot springs.
"We had the best experience I think you could ask for," said Loehndorf. "From where I grew up, I never envisioned that what we experienced in Costa Rica would ever be possible."
Loehndorf and Thompson decided to have a destination wedding after attending a friend's ceremony in Mexico.
"The entire trip cost $ 28,000 — a bargain," said Thompson. "It was well worth the savings it took us to get there. In comparison, throwing a big wedding in Chicago could have cost us up to $ 75,000."
GayDestinationWeddings.com features the G-List, a curated list of hotels that embrace same-sex wedding weddings and their guests.
About Destination Weddings Travel Group

Destination Weddings Travel Group is comprised of five, full-service planning sites that specialize in celebratory travel markets across the globe. By combining the personal service and expertise of more than 200 certified specialists with resort partnerships in over 42 countries, the group affords customers a premier one-stop shopping experience. Its flagship web site, DestinationWeddings.com, has worked with over 15,000 brides and in 2012 was ranked by Inc. Magazine as one of the 500/5000 fastest-growing private companies in the country for the fifth consecutive year.
# # #