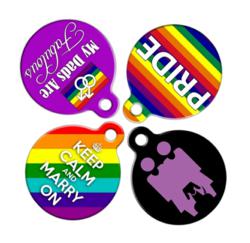 Asheville, NC (PRWEB) April 02, 2013
Are all animals and humans created equally? That's a question with certainly more than one answer. However, one pet id tag company based in Asheville, NC is sticking a paw out for their beloved two-legged friends in the lesbian, gay, bisexual, and transgendered (LGBT) community. Dog Tag Art believes that all people have the right to love whoever they want to love, and that's why they're creating and offering more pet ID tags to support LGBT rights. With arguments around same sex marriage rights on the table of the Supreme Court, the fight for recognition and equality is gaining momentum. Dog Tag Art is proud to join and support that fight.
"Our pet's love us all unconditionally, no matter who we are or what we believe. I think we humans could definitely learn a lot from adopting a similar outlook."

Russ Barker of Dog Tag Art.
In their continued effort to show support and solidarity, Dog Tag Art has created an entire category of LGBT pet id tags. Dog Tag Art's original artwork for pet ID tags promote awareness with sayings like, Smile if You're Gay"and"I Love my Two Moms." Pet owners around the world can also upload their very own photographs and artwork to the Dog Tag Art Custom Tag Designer and create their own outspoken pet tags for their little ones (or for themselves), letting the world know exactly where they stand on love, politics, and equal rights.
Dog Tag Art also allows artists to submit unique dog tag creations to be featured on the site. Designers with LGBT inspired works of art can submit tags through the Dog Tag Art website. Once approved by the team, an artist's work is promoted on-site, receives a stand-alone profile for the pet ID tag for artists to share with their friends, family and local community, as well as a commission on their custom LGBT solidarity art.
The world world be a better place if everyone simply loved unconditionally – like pet dogs and cats. Animal companions can show their support for equal rights and recognition with an LGBT tag from Dog Tag Art.
About Dog Tag Art: Established in 2008, Dog Tag Art is the original place for personalized pet ID tags that allow pet owners to upload artwork or photography to create unique pet ID tags. Create custom dog id tags, or view all of the pet id tags in their online gallery.