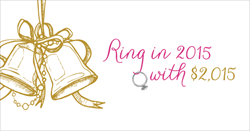 Wayland, MA (PRWEB) December 30, 2014
Destination Weddings Travel Group (DWTG), the world's leading destination wedding and romantic travel planning company, has released an exclusive offer for couples who book their destination wedding through the premier travel site. The offer allows couples to receive $ 2,015 off their destination wedding travel package at participating hoteliers throughout early 2015; Karisma Hotels & Resorts and Hard Rock Hotels All-Inclusive Collection.
Couples can opt to have their wedding at a wide variety of resorts located throughout Mexico and the Dominican Republic, including nine luxurious properties from Karisma Hotels & Resorts and four lively resorts from Hard Rock Hotels All-Inclusive Collection.
"The destination wedding industry is growing exponentially," said President & CEO Richard Calvert. "We're thrilled to celebrate a fantastic 2014 by offering this exclusive gift to our couples planning their destination wedding in 2015."
With over 24% of couples opting for destination weddings in 2014 (up from 16% in 2013), DWTG is expected to plan over 2,500 destination weddings in 2015.
"Ring in 2015 with $ 2,015" is now available exclusively through DWTG and runs through the end of February. It is applicable to the following DWTG brands: DestinationWeddings.com, GayDestinationWeddings.com and LuxuriousDestinationWeddings.com.
About Destination Weddings Travel Group
Destination Weddings Travel Group (DWTG) is comprised of four, full-service planning sites that specialize in romantic and celebratory travel across the globe. By combining the personal service and expertise of more than 200 certified specialists with resort partnerships in over 42 countries, DWTG offers customers a premier one-stop experience for planning destination weddings, honeymoons, anniversaries, birthdays and family reunions.