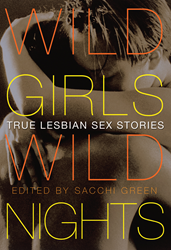 (PRWEB) June 04, 2014
The winners of the 26th Annual Lambda Literary Awards (the "Lammys") were announced Monday night in a gala ceremony hosted by comedienne Kate Clinton at The Great Hall at Cooper Union. It occurred on the heels of BookExpo America, the book publishing industry's largest annual gathering of booksellers, publishers, authors, and readers.
The Lambda Literary Foundation nurtures, celebrates, and preserves LGBT literature through programs that honor excellence, promote visibility and encourage development of emerging writers.
This year, the Cleis Press title Wild Girls, Wild Night, edited by Sacchi Green, won the Lammy Award for Lesbian Erotica.
Green said, as part of the OutWriters project Cleis Press launched this June, "Why not? Reading and writing are journeys of discovery, and LGBTQ themes and characters are as vital as any other dimensions of that journey, taking us to places real or imagined, within ourselves or around us, contemporary or historical. And besides, good writing is well worth reading, whatever the theme and whoever the well-drawn characters may be.‬"
Wild Girls, Wild Nights

Edited by Sacchi Green
Curated by the Lambda Award-winning editor of Lesbian Cowboys, Sacchi Green, Wild Girls, Wild Nights merges tenderness with edge play. Well-known writers and newcomers reveal the intimate, unrestrained details of their sex lives and share some of their truly unforgettable encounters. Wild Girls Wild Nights is also available as an audiobook, produced by the legendary Susie Bright.
Cleis Press publishes provocative, intelligent books across genres. Whether literary fiction, human rights, mystery, romance, erotica, LGBTQ studies, sex guides, pulp fiction, or memoir, you know that if it's outside the ordinary, it's Cleis Press.
Related Lesbian Press Releases